Do you long to see hope rise in your community? For the young and the vulnerable to be valued and supported to achieve their best and fulfil their potential? For your neighbourhood to be a place of connection and community for everyone?
If this is what's in your heart, we'd love you to join us this month for our second annual Feast for Life. As communities around the nation continue to face unprecedented challenges, this is one way that you can be part of transforming your neighbourhood in 2021.
What is Feast for Life?
More than a shared meal, Feast for Life is a gathering of community, committed to helping young people and their communities flourish. No matter where you are, you can sign up to host a meal on any day from 11 to 18 October. It could be a dinner over ZOOM, a morning tea at work or a lunch with your church. Whatever stage of restrictions you are experiencing, this is an event that you can be part of!
Your Feast for Life will raise funds to support the work of Fusion around Australia and be an opportunity for you to think about the needs in your neighbourhood and how you can respond.
What do you need to do?
Register to host a Feast for Life. Visit feastforlife.com.au to register your event and set up your fundraising page.
Choose a Date and Location. Home, work, church, community hall or in your street, anywhere is fine. If you do choose to host your Feast for Life outside of your home, you will need to ensure Public Liability Insurance is in place. The official week for Feast for Life is 11-18th of October, but you can choose to hold your event whenever suits you best!
Image: Feast for Life 2020 Fusion Cafe, St Marys NSW
3. Teamwork makes the dream work. Running an event is always easier if you have some helpers. Ask friends, family, or colleagues if they can help with the cooking, fundraising, or spreading the word.
4. Spread the word. Let your guests know about your Feast by setting up a Facebook event, or personally inviting people via email, SMS, or old-fashioned snail mail. Whichever way you do it, remember the more the merrier.
5. Raise the funding to help young people, their families and community thrive. Share what you are doing with others and invite them to sponsor your Feast or join in themselves! They can donate directly to your fundraising page to help you reach your target.
6. Develop your reflection. We'll provide an Event Pack full of ideas to get you started. Make the most of your gathering by inviting everyone to consider the needs of your community and how you might be able to make a difference.
7. Keep Everyone Up to Date. Tell the story of what you're doing on your social media, via email or in person. The more people you share with, the more support you'll have, and your team will just keep growing!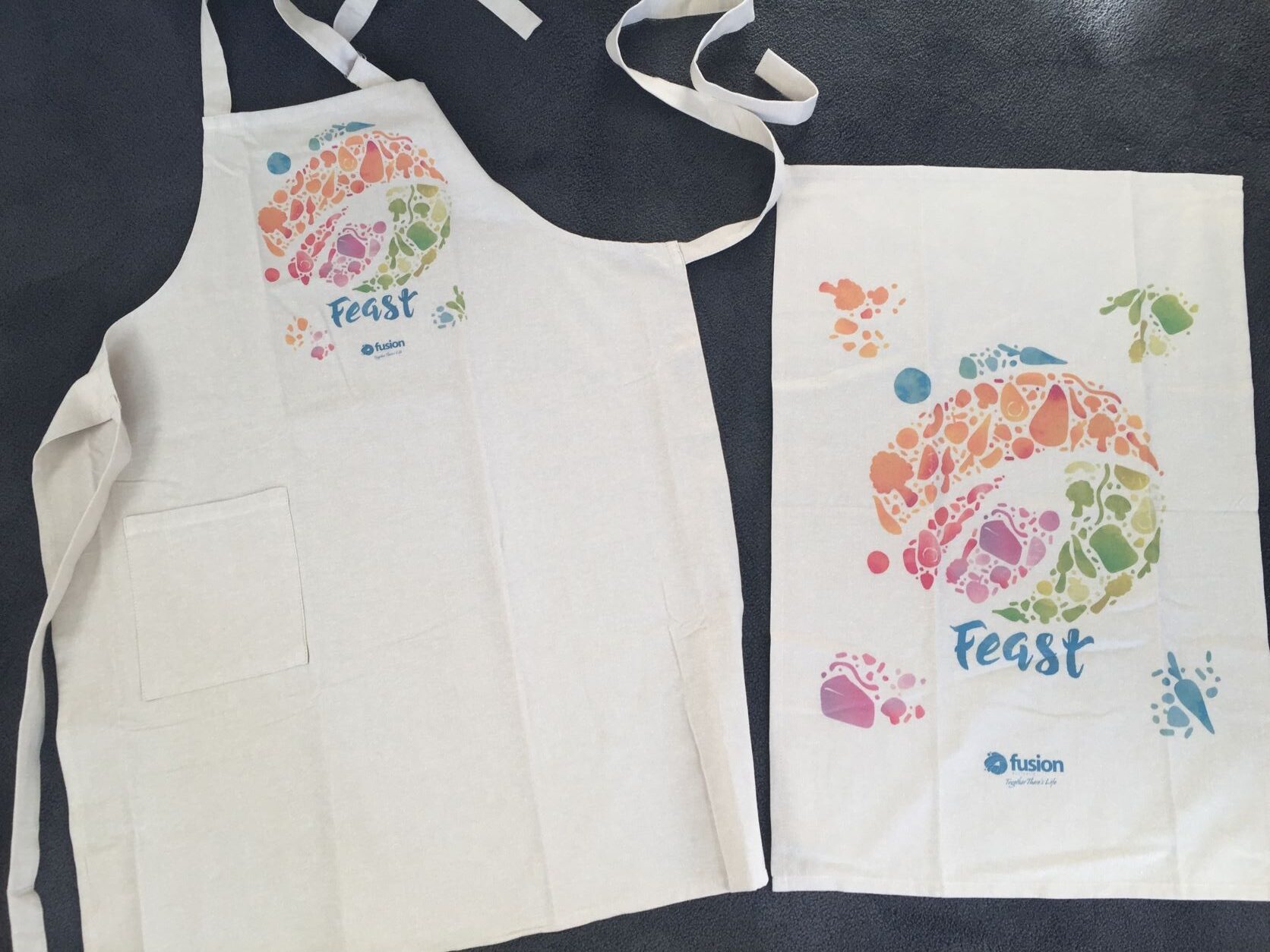 Image: Tea Towel and Apron NEW in 2021
To find out more about Feast for Life visit www.feastforlife.com.au.
At this unique moment in history, what would be possible if we all took seriously Jesus' command to love our neighbour as ourselves?