What does a mother need to thrive?
"Thriving", according to the dictionary, means "growing or developing vigorously; flourishing". I wonder how many of us are really flourishing. It sounds like a wonderful state to be in, not only for a weary mum, but for all of us. So, what does a mother need to thrive?
Laughter – the best medicine
As we were getting ready for bed last night, my husband and I started to reminisce about a young man who lived with us 35 years ago. He was a very funny guy. He had a unique way of saying things and gently mimicking people that always made us laugh – and still does decades later!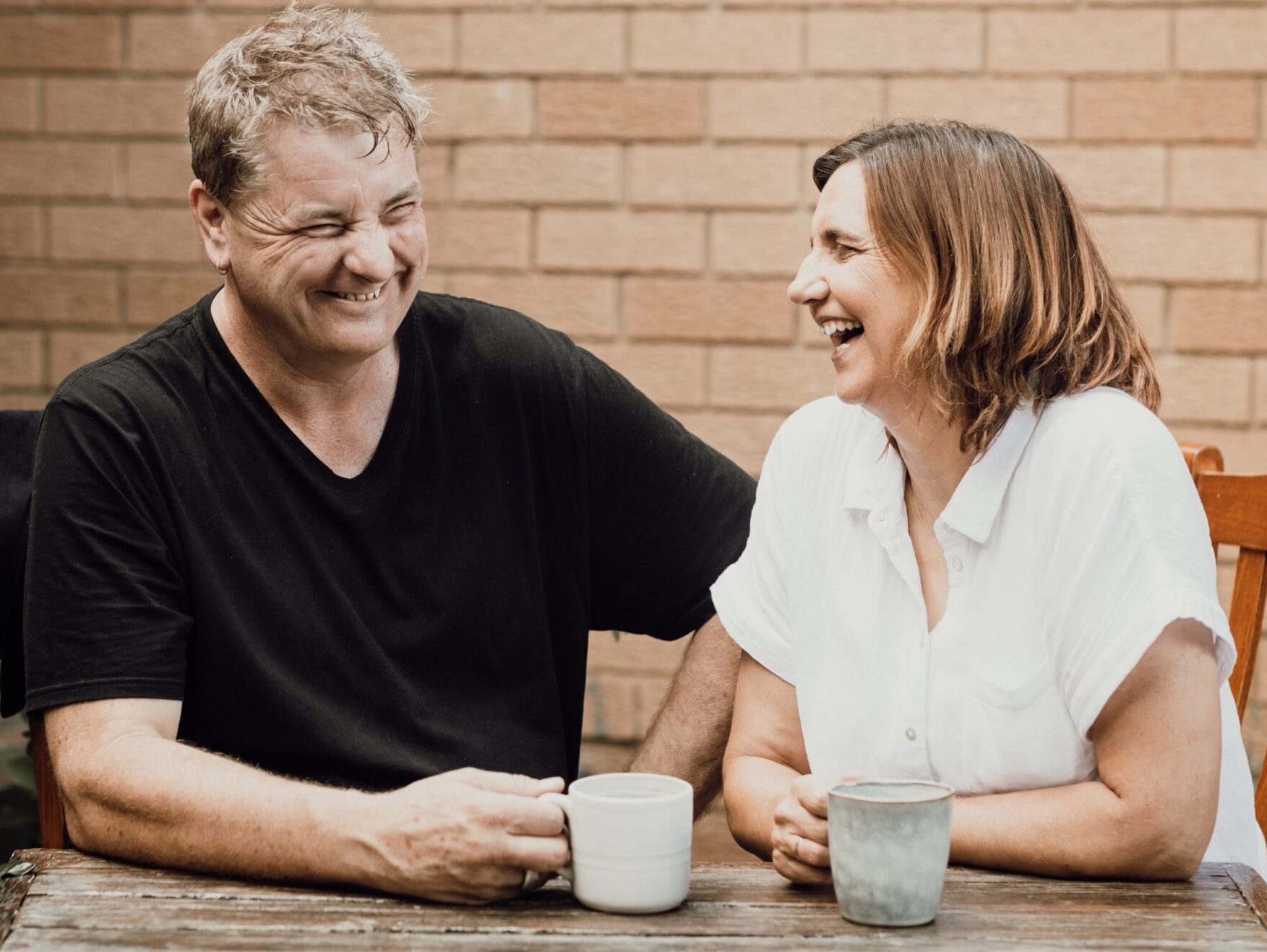 Image: Sallie and Dave enjoy laughing together
Sharing the Memories
Last night something reminded us of him and off we went, repeating lots of the hilarious things he would say. Before long both of us were holding our stomachs with laughter, and we woke up this morning still giggling as we reminded each other (yet again!) of the quotes from our friend.
The effects of enjoying these memories so much are interesting and I think, essential for our families – whether it's mums, kids or anyone – to thrive. 
After our episode of cackling settled, my husband and I felt closer to each other, we felt connected. Having a funny, playful time relieved our stress and gave us a surge of "feel good" hormones. We actually enjoyed each other's company! For those few minutes there was nowhere else we would have rather been.
As families connect, play and laugh, everybody thrives.
When our children were in high school they would sometimes come home and do impersonations of their teachers: the ways they walked and talked. Or they would tell me how the teachers loved to entertain the class with their own stories and how easy it could be to get them off the track of Maths or Science! I would enjoy sitting back with my afternoon coffee, taking in these tales and antics. It was like a "mini holiday" from the serious stuff of parenting, from the endless housework and To Do lists. I could then move on to my jobs feeling refreshed, even a little more vigorous and flourishing.
 Our warm connections with each other help us grow.
It might be falling about laughing. It might be snuggling up on the couch watching a movie together. It might be sharing something painful or challenging that's happened, and knowing the other person is giving us their full attention, listening with empathy and really wanting to understand.
We all need warm trusting relationships to grow and thrive.
My New Rituals
At the start of this year, instead of dragging out the same old list of New Year's Resolutions, I set up some "Rituals of Connection"; regular coffees, walks or phone calls with people who I rarely get round to catching up with. Some are monthly, some on our birthdays, some fortnightly. These are now in my diary so I remember the commitments I've made. I know when they're coming and I look forward to them. They've become anchors in my life, a warm sense that there are people who also want to spend time with me.
What does a mother need to thrive? Being part of the answer.
This might give some clues as to how all of us can grow and flourish and become the people we were made to be. Look around you. Maybe this Mother's Day you could set up a Ritual of Connection with someone, a regular time to care, listen and laugh. It might just help a mother thrive.
Helping Families Thrive
If you're keen to find ways to help your family, mothers and others thrive, check out Fusion's Families Course. In this short course, parents, grandparents, carers and others will develop a picture of the family they want and will learn skills and strategies to make that happen.
About Sallie
When Sallie was a teenager, she joined a Fusion team reaching out to young people on the streets of Launceston, Tasmania. She met her husband Dave when he walked in off the street and together, they worked with Fusion for over 30 years.
Sallie's focus was always around supporting parents and families through supportive relationships and community programs, and while she and Dave raised their own young family, Sallie and the team developed the Families Course. 
Sallie went on to write a companion book to the course called Families: Mine, Yours, Ours. The book is based around the course material, while also telling stories of Dave and Sal and their four kids.
The Families Course is also now available on video at familiescourse.com.
In reflecting on her own motherhood journey, Sal says, "I feel so grateful for the close communities we were part of as we raised our family. As I support parents now who are having a tough time, I often wish they were a part of loving generous communities like we were. That is what can make all the difference."